Vi är ju många som slagits över hur lätt och snabbt det gick att få igenom att elscootrar ska ha "geofencad" hastighetsgräns. Alltså att maxhastigheten automatiskt stryps när man kör i vissa områden.
Nu ser vi att biltillverkaren BMW ger sig in i… elcykel… elmoped… elnågontingbranschen med sitt koncept "Vision Amby":

"With the BMW i Vision AMBY, the first high-speed pedelec for urbanists, the BMW Group is presenting a visionary two-wheeled solution for the urban mobility of tomorrow."

Framtidens urbana mobilitetet alltså. Den är såklart modern med hitechlösningar och appar. Och ska såklart inte heller gå hur fort som helst:
"Vision AMBY uses geofencing technology and HERE Maps to detect where you are and automatically chooses between three speed levels: from max. 15 mph to max. 28 mph, up to max. 37 mph."
Cykel…moped…, ja vad det nu är är alltså automatiskt låst till en maxhastighet som varierar från 25 km/h till 45 km/h. I videon nedan uppges också att den kan släppa på upp till 60 km/h utanför stadskärnorna. Intressant BMW. Frågan vi ställer oss, när kommer den tekniken till BMW:s övriga fordon? Vad toppar en genomsnitts BMW, 250-300 km/h?
Här passar vi på att ta oss en avstickare till Folksams undersökning häromveckan: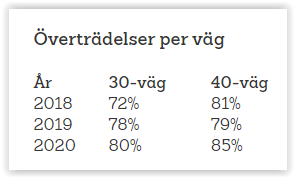 Årets mätningar visar att precis som föregående år är det i första hand på 30- och 40-vägar yrkesförare kör för fort, men i år har även antalet fortkörningar på 60-vägar stuckit iväg och är nu den hastighet flest bryter mot. 88 procent av de mätta fordonen körde för fort där, medan andelen fortkörningar på 30-vägar var 80 procent respektive 85 procent på 40-vägar.
Alltså på 30 och 40-vägar kör med god marginal majoriteten för fort. Här vore ju BMW och elscooterbolagens teknik inte bara lysande utan också livräddande.

EDIT: Vi slänger in den här också:

Hur stor är chansen att tekniken inte bara reserveras till elcyklar, eller elcykelliknande fordon tror ni?
Vi får väl se vad framtiden för med sig.