Kan vara en av våra mest tråkiga rubriker, men ämnet är rätt viktigt. Och omtvistat. Det handlar om hur journalister skriver och rapporterar om när folks skadas eller dör i trafiken. Sajten We Are Cycling UK skriver om hur viktigt det är hur man uttrycker sig när man skriver om vissa frågor. I Storbritannien finns till exempel pressetiska riktlinjer för hur man rapporterar om våld i hemmet, samma sak för hur man skriver om självmord.
We Are Cycling skriver om hur allvarliga skador, eller dödsfall, i trafiken är så vanligt, att media har svårt att rapportera om dem. David Davies, som är VD för PACTS, The Parliamentary Advisory Council for Transport Safety, ett slags motsvarighet till NTF i Sverige, säger att:
"Road deaths are often too commonplace to be "news" while, as a feature, road safety can seem worthy but dull. If there is an interesting hook, it is often because it is not representative."
"Dödsfall i trafiken är för vanliga för att passa nyhetsrapporteringen, samtidigt som trafiksäkerhetsfrågor kan vara för tråkiga. Om det finns en intressant vinkel är det ofta för att den inte är representativ".
Det här finns det ett journalistiskt uttryck för: "Hund bet man" är ingen nyhet, det är alldeles för vanligt, men "Man bet hund" är det, eftersom det sker mer sällan. För att få till den där nyhetsvinkeln, så letar man som journalist gärna därför efter det udda, det som väcker uppmärksamhet.
Därför har PACTS tagit fram tio riktlinjer för hur man som journalist kan rapportera om trafikolyckor, trafikskador och dödsfall i trafiken. We are Cycling lyfte därefter de sex av de tio som berör cykling. Vi gör därför samma sak, och försöker kackigt översätta till svenska. Orignaltexten finns därefter.
Riktlinjer för rapportering av trafikskador
Utgå alltid från tillgänglig fakta. Rapportera vad du vet och, lika viktigt, vad du inte vet. Ofta lämnar polis och ambulans lite information och viktiga detaljer kommer inte fram förrän på direkt fråga eller i domstol.
Undvik att använda ordet "olycka" innan alla fakta om händelsen är kända. Det är särskilt viktigt att undvika ordet olycka när någon åtalas för trafikbrott.


Om du menar "förare", skriv "en förare" och inte dess fordon. Det är särskilt viktigt när det handlar om fortkörning eller när någon flyr från platsen.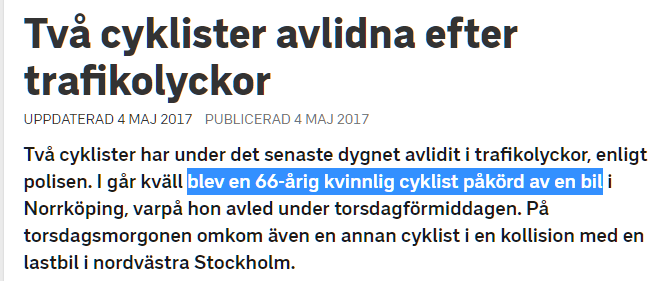 Fundera som journalist på om du negativt generaliserar om en person eller persons beteeende utifrån en persons "grupptillhörighet". Forskning visar att om folk ser en trafikant, till exempel en cyklist, som en del i en "utanför-grupp", ett "de" och inte ett "vi", så är risken större att de agerar aggressivt mot dem i trafiken. Tänk på att språk som antyder att det pågår ett "krig" eller "strid" i sig riskerar att spä på aggressiviteten.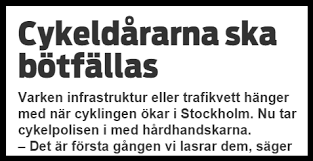 Rapporter om upplevda risker på vägarna bör bygga på fakta och hållas i kontext. Större, snabbare fordon har större risk att allvarligt skada eller döda. De som rider, går eller cyklar, löper större risk att bli allvarligt skadade vid en kollision. Genom att sätta det i kontext, till exempel att ta med lokal eller nationell trafikdata, kan hjälpa läsare att förstå storleken på problemet, och minskar risken för att framställa händelser som undantag, när motsatsen ofta gäller.


Undvik att beskriva trafikbrott som acceptabla, eller förövarna som offer.


Vad tror ni, skulle liknande riktlinjer behövas i Sverige?
Läs hela artikeln hos We Are Cycling UK. Läs också ACTS kompletta riktlinjer (PDF). Här är den engelska originaltexten:
At all times be accurate, say what you know and, importantly, what you don't know. Often emergency services will release scant information and key details won't emerge until an inquest or court case.
Avoid use of the word 'accident' until the facts of a collision are known. Most collisions are predictable and before an enquiry or court case, the full facts are unlikely to be known. It is particularly important to avoid the word accident when someone has been charged with driving offences. Using 'crash' or 'collision' instead leaves the question of who or what is to blame open, pending further details.
If you're talking about a driver, say a driver, not their vehicle. This is particularly important when describing actions such as speeding, or leaving the scene of a crash.
Journalists should consider whether language used negatively generalises a person or their behaviour as part of a 'group'. Research shows that if people see a road user, such as cyclists, as an out-group, or less than human, they are more likely to act aggressively towards them on the roads. Be mindful that language insinuating there is a 'war' or 'battle' on the roads risks in itself inflaming tensions.
Coverage of perceived risks on the roads should be based in fact and in context. Larger, faster vehicles have a greater potential to cause injury and death, while those on horseback, on foot and cycles are more likely to be seriously injured in a collision. Providing context, such as local or national collision trends is particularly powerful in helping readers understand the scale of a problem, and avoids portraying incidents as isolated, when this is often not the case. High visibility clothing and helmets don't guarantee users safety, and mention of these elements has a powerful impact on readers, encouraging them to apportion blame before the full facts are known.
Avoid portraying law-breaking or highway code contravention as acceptable, or perpetrators as victims. An example of this is stories of speed camera use somehow 'targeting' road users, or causing danger on the roads.
Toppbild: Ghost bike placerad vid Slussen där Jeanette Trygg kördes ihjäl 2012. Det beskrevs som en kollision med lastbil.