För en massa år sedan skrev vi om skriverier om att Trafikverkets trafikkalkyler var något svajiga:
Men en extra kontroll förra året visade stora och systematiska felkalkyleringar. När man kontrollerade ett 40-tal platser runt Stockholm, Roslagen och Mälardalen fanns på vissa håll felaktigheter på 50 till 100 procent.
Nu nås vi via Twitter om att en av metoderna (hoppas vi, för det kan väl inte vara den enda?) är att helt enkelt googla. Japp, i Trafikverkets rapport om Tvärförbindelse Södertörn används Google Maps trafikrapporteringssystem för att visa hur mycket området behöver en ny motorled: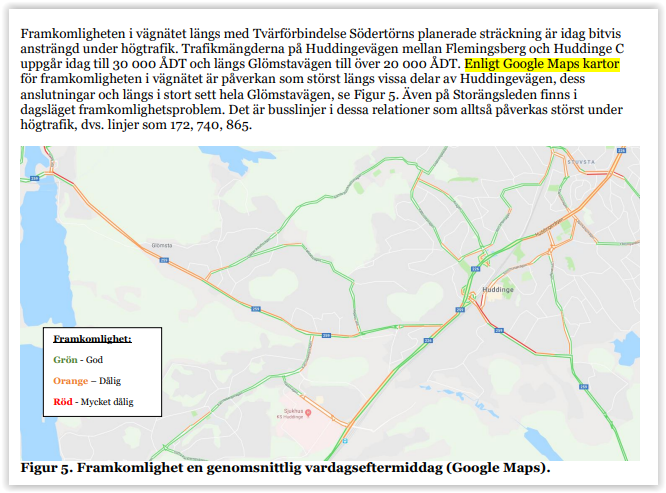 "Restiden för bil är hämtad från Google-Maps"
Vi är bara amatörer, men en gissning är att Google inte riktigt tänkt sig att deras trafiktjänst skulle användas i ett beslutsunderlag för en miljardinvestering i motorinfrastruktur.

Vi har letat och letat för att hitta hur Google bestämmer de här färgkoderna, men det verkar vara en väl förborgad företagshemlighet. Det närmaste vi kommit är att det verkar vara en kombination av trafikdata delad från bilister med Androidtelefoner och historisk data för vilken tid det brukar ta att färdas en sträcka. Men hur tillförlitligt det är hittar vi ingenting om. Förutom den här Wiredartikeln från förra året:

Konstnären Simon Weckert samlade in nittionio telefoner, la dem i en liten kärra och gick upp och ner för en gata.
The effect wasn't instantaneous; it took Google Maps about an hour to catch up. But eventually, inevitably, Weckert says his wagon would create a long red line in the app, indicating that traffic had slowed to a crawl—even though there wasn't any traffic at all.
Det tog Google Maps ungefär en timme att uppfatta Weckerts lilla vagn som en rejäl trafikstockning. I den här kontexten blir Wireds text nästan som en direkt kommentar till Tvärförbindelse Södertörn:
Not only is it a closed system, with little transparency around what data informs it and how it's used, but Google Maps also uniquely shapes the physical world.
"but Google maps also uniquely shapes the physical world"- till exempel genom att användas för att anlägga en miljardmotorväg borta i ett litet land i norra Europa.
Nu ska sägas att vi inte tror att folk går med insamlade mobiler längs Glömstavägen i Huddinge. Men det ger en indikation på att trafikdatan kanske inte bör användas som underlag för miljardinvesteringar i infrastruktur.
Så vi hoppas Trafikverket hade andra källor också.
Tipstack till Car Sverige