Vi skrev ju tidigare att de tog bort pop-up cykelbanor i Kensington i London – med hänvisning till att många klagat över att det blivit bilköer och att cykelbanorna hindrar trafiken.
När man tar bort popup-cykelbanorna för att de hindrar trafiken så… (cyklistbloggen.se)
Åtminstone initalt verkade borttagandet inte gett någon särskilt tydlig effekt, mer än att biltrafiken fick ytterligare lite yta att stå still i:
If you were the gentleman I followed down Kensington High Street today, apologies. I just wanted to see what the experience was like on two wheels since the cycle lane was ripped out. Here's your answer — pic.twitter.com/XfD4YENPMH

— Jeremy Vine (@theJeremyVine) December 15, 2020
Det är lite i linje med vad man upptäckte på Götgatan i Stockholm – där man 2014 tog bort en fil till förmån för en bredare cykelbana. Förstudier visade att filen som togs bort, dessförinnan i huvudsak använts för dubbelparkering.
Studier efter borttagandet visade att flödet av bilar inte påverkats i någon nämnvärd utsträckning: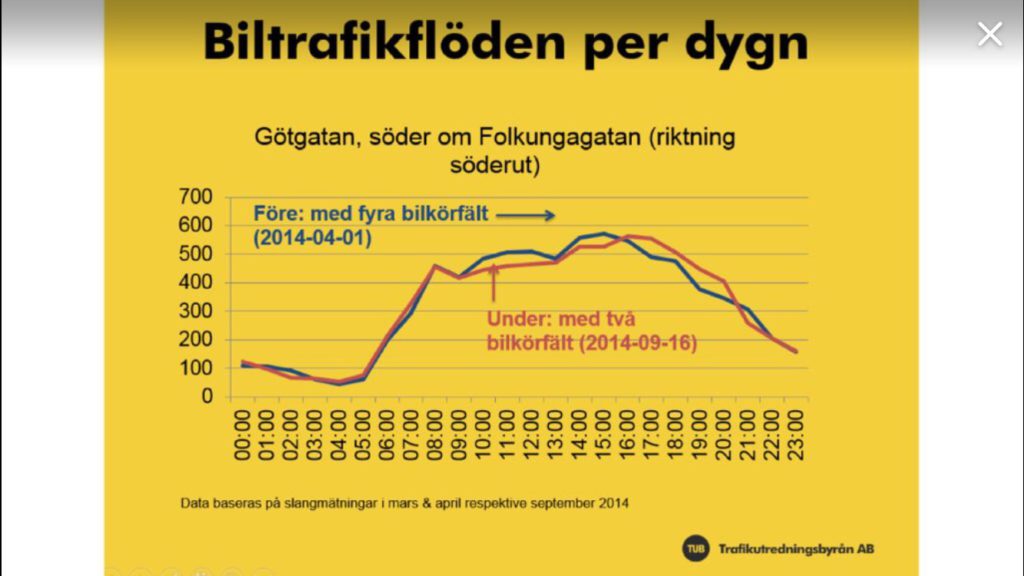 Det vill säga: Cykelbanor som direkt tar av ytor som används för motortrafik minskar inte nödvändigtvis framkomligheten för biltrafiken.
Nu har det också gjorts en mer systematisk undersökning av Kensingtonsträckan, som inte bara visar att framkomligheten inte blivit bättre sedan man rev upp cykelbanan – den har blivit direkt sämre. Vilket i sin tur skulle kunna innebära att en cykelbana som direkt tar av ytor som används för motortrafik, faktiskt kan öka framkomligheten även på kort sikt (Annars brukar ju argumentet vara att cykelbanor ökar framkomligheten på lång sikt, när folk slutar köra bil och cyklar istället).

Det blev alltså inte bara inte bättre, det blev sämre:
"Computer analysis of traffic cameras on Kensington High Street have also shown that average car journey times appear to have increased since officials took out the bike lane just seven weeks after it was installed."
"Dataanalys från trafikövervakningskameror på Kensington High Street visar också att restiden för den genomnsittliga bilresan verkar ha ökat sedan myndigheterna tog bort cykelbanan bara sju veckor efter man anlade den"
"The study assessed average car journey times on a sample 1.1-mile stretch of the street using Google Maps' real time traffic data, finding that these had increased after the cycle lane was removed."
"Undersökningen använde realtidsdata från Google Maps för en exempelsträcka på 1,1 miles. Den visade att restiden ökade när cykelbanan togs bort."
En representant för beslutsfattarna sa till Guardian:
"Since the decision we have received a letter signed by 25 residents' associations, which represent 3,400 households, welcoming the decision to remove the lanes. We have had over 1,300 emails from residents and 85% were against the cycle lane."
This updated total of 1,300 residents represents 0.8% of the borough's population.
""Efter att vi fattat beslutet [att ta bort cykelbanan] har vi fått brev från 25 boendeorganisationer som representerar 3400 hushåll, som välkomnade beslutet. Vi har också fått över 1300 mail från boende och 85% av dem var negativa till cykelbanan".
Den här uppdaterade siffran på 1300 boende, representerar 0,8% av stadsdelens befolkning."
Men cyklisterna fick så de tålde.