I Kensington i England har grupper fört en kamp för att få behålla den popup-cykelbana som anlades tidigare i år.
Det lokala styret påstod att de mottagit protester från boende och affärsidkare som tyckte att cykelbanan orsakade köer och bestämde att de skulle tas bort i förtid. Och nu är den bortplockad.

"Council says it acted after hundreds of residents and businesses called for their removal – but petition includes signatories from the US, India, Nigeria and Venezuela"
Blev det köfritt? Nej, inte ett dugg. Enda skillnaden var att biltrafiken fick tillbaks en fil att stå still i:
If you were the gentleman I followed down Kensington High Street today, apologies. I just wanted to see what the experience was like on two wheels since the cycle lane was ripped out. Here's your answer — pic.twitter.com/XfD4YENPMH

— Jeremy Vine (@theJeremyVine) December 15, 2020
Hela spektaklet uppmärksammandes också i tidningen Forbes, med en rätt intressant vinkel: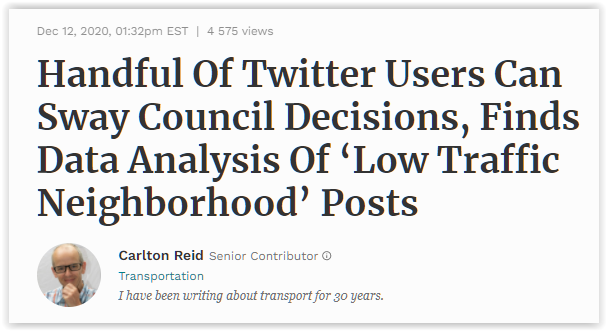 De skriver om Jimmy Tidey:s forskning kring "Twitter-stammar":
His latest research delves into the divisive debates about London's new "low traffic neighborhoods." Using graphics to represent "filter bubbles," he explores how a small number of individuals on Twitter can convince themselves and others—including councils—that their opinions are the truly mainstream ones.
"A small number of people can make a lot of noise," says Tidey.
"Some Twitter users engage in long threads with up to 40 users tagged in, allowing them to generate huge numbers of connections."
För det visar sig att de undersökningar som gjorts, tvärtom ger stöd till popupcykelbanor och "LTN" – Low traffic neighbourhoods:
A YouGov survey commissioned by Greenpeace found strong public support for measures to increase "active travel," including LTNs. Furthermore, the Department for Transport said a survey conducted by Kantar Media in October indicated that 65% of people across England supported reallocating road space to cycling and walking in their local areas.
Eller i korthet, några särskilt aktiva twittrare har skapat intrycket av ett massivt motstånd, men att när man gör mer amitiösa undersökningar så visar det sig vara tvärtom.
Som Stockholmare känns det också igen hur den här sociala-medier opinionen förstår att det inte är världens bästa PR-trick att vara för mer biltrafik 2020, men att man försöker hitta sätt att komma runt det:
Some LTN critics bill themselves as "roads-for-all" and "clean-air" campaigners, arguing that motorists are treated unequally even though most roads—even within LTNs—remain almost wholly permeable to those in motor vehicles.
Other critics argue that LTNs are discriminatory towards disabled people, although most of these critics have never previously championed disability rights.
I Stockholm har vi sett liknande argument, att man inte protesterar mot cykling i sig, utan att man är för att "alla ska få samma rätt till vägen", "det måste vara balanserat" och "Vi ska inte ställa grupper mot varandra".
Där satsningen på cykling, och för den delen sommargator och fler gågator, presenteras som ett slag mot handikappade, äldre och inte minst fotgängare. Minns till exempel snökaoset vinter 2019, när cyklister ställdes mot fotgängare, och ingen någonsin invände att bilvägarna hölls lika välplogade som alltid. Eller då medelålders män, på cykel, ställdes mot kvinnor.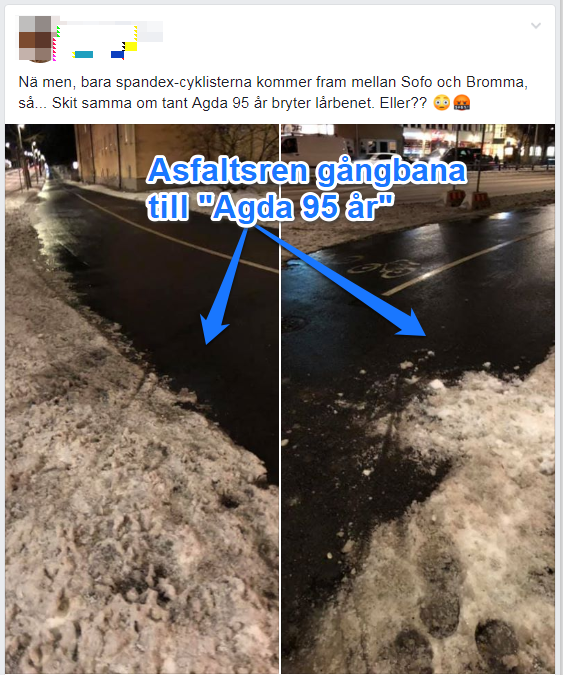 Eller minns när två handlare på Götgatan fick en tidning att dra till med rubriken "Handlare slår larm – cyklisterna skrämmer bort kunderna".
Det är alltså inget nytt att man istället för att prata om att man vill kunna köra bil som förr, gömmer sig bakom mer behjärtansvärda saker som att man står på de gamlas sida.
Vi minns tex skämtet "En bilist, en cyklist och en fotgängare sitter på ett café. De får tio kakor och bilisten tar direkt åtta av dem. Sedan vänder bilisten sig till fotgängaren och viskar "Akta dig så att cyklisten inte snor din kaka"."
Extra aktiva i kampanjen mot cykelbanorna i Kensington var tidningen Daily Mail:

"Now Sadiq Khan vows to seize control of High Street Kensington to REINSTALL hated cycle lane despite weeks of traffic chaos hours after council finally starts to rip up bollards and fully restore road"
Vilket fick lokala grupper att svara med att lyfta att banorna fått också barn att få plats: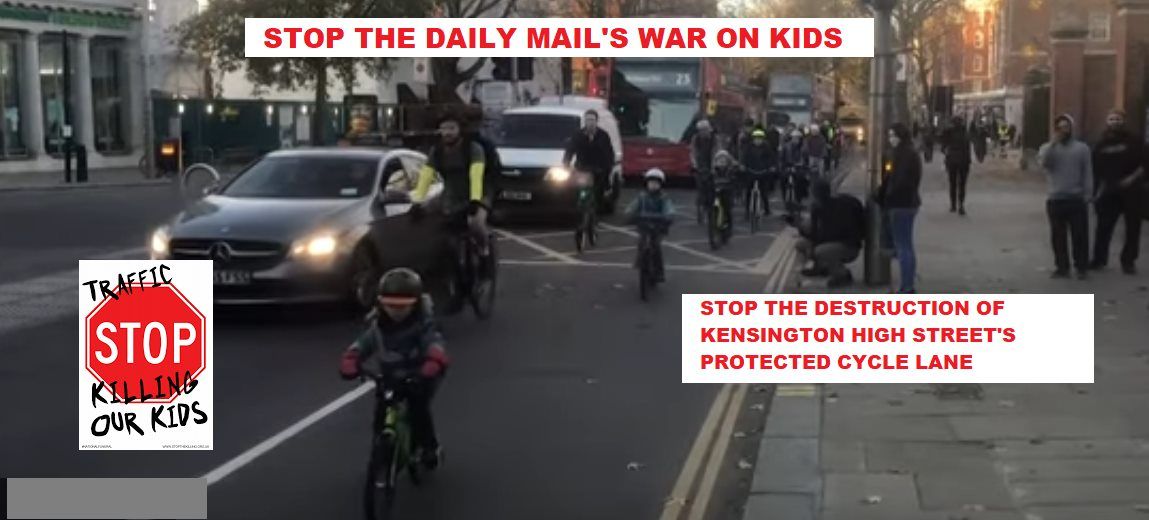 Men, nu revs alltså cykelbanan i Kensington, köerna har ytterligare en fil att stå still i.
Men cyklisterna fick så de teg, ha.