Med jämna mellanrum dyker det upp någon som säger att visst, det är bra med cykling, men vi har faktiskt snöiga vintrar och därför funkar inte cykling som transportmetod i Sverige.
Nu har NTF, Nationalföreningen för trafiksäkerhetens främjande frågat 800 personer vad som skulle få dem att fortsätta cykla på vintern. Och det är inga skrällnyheter direkt, men förtjänar ändå att lyftas:

"Bättre vägunderhåll skulle ge fler vintercyklister"
"– Att så många som 60 procent av Sveriges cyklister skulle cykla mer om de fick förutsättningar att göra det på ett säkrare sätt är otroligt viktig kunskap för samhället. Inte bara i år när vi på grund av rådande smittskyddsrekommendationer behöver hålla distans och avråds från kollektivt resande, säger NTF:s generalsekreterare Marie Nordén."
Yes, verkligen!

Vi brukar lyfta Stockholm som exempel, där man 2013 började sopsalta, något som visat sig leda till rekordsiffror för cykling varje vinter.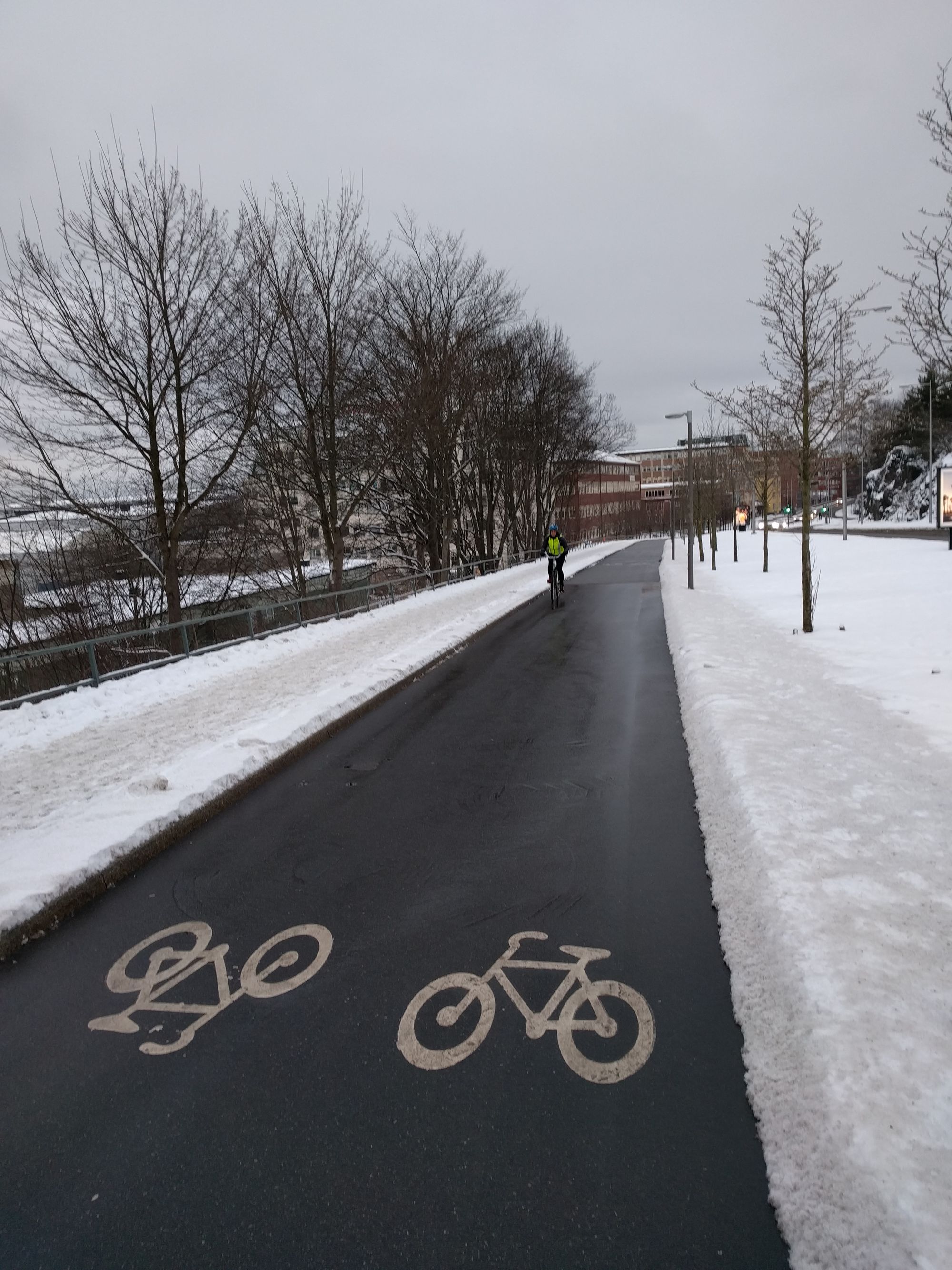 I år ökar Stockholm antalet stråk som sopsaltas, berättade de på sin Facebooksida
Ett annat exempel på att devisen "Det finns snö här och är kallt, därför går det inte att cykla" inte stämmer är Finland. Där blir det precis som i Sverige rätt kallt på vinterhalvåret.

"Där råder det bred enighet om att satsningarna på cykelinfrastruktur är klok politik. De ses som en besparing – på pengar, utrymme och energi. Och det finns fler plusposter: mindre buller, bättre luft, färre allvarliga olyckor, piggare elever och friskare invånare."
The Guardian skriver om samma stad:
Firstly, while winter cycling does bring its challenges, these are not always the ones you might expect. Secondly, and this is perhaps more predictable, if you want more people on bikes in winter, it's less about individuals than infrastructure.
The opening event of the Winter Cycling Congress took place at the city's main school where, the teachers say, about half of pupils still ride to school in winter. On the morning in question, it was -13C and snowing. But the school's bike racks were full.
Och i finska Oulu cyklar de också på vintern:
Since that time, Oulu has gained an international reputation for its efforts to facilitate active transportation in the winter. Today, 27 per cent of the population are active cyclists all year long, while Perälä has become the founder and president of the Winter Cycling Federation.
1000 out of 1200 kids in this school in #Oulu, #Finland, arrive by #bicycle, even in winter. 100-150 walk, rest by ski, kicksleds and car. This day it was -17°C.
@WCCCalgary2019 #WCC2019 #wintercycling pic.twitter.com/8vgDEMf56R

— Pekka Tahkola (@pekkatahkola) February 6, 2019
Så, om vi bara lär oss av de undersökningar och den erfarenhet som redan finns så kanske vi framöver slipper tråkiga rubriker som den här, alltså sådana som slår fast det självklara, "Det går att cykla på vintern".
Läs också: Kids In Finland Continue To Ride Bicycles To School In -17°C (1.4°F) Weather And It's A Lesson In Commuting
Why Finland leads the field when it comes to winter cycling
Vintercyklandet ökar fortfarande
Toppbild: This Cyclist Is Getting On With It/Public Domain