Vi snubblade över en vettig artikel i Financial Times. Särskilt det här slog oss:

Genom att prata om "en strid mellan cyklister och bilister" lämnar man ute en nyckelgrupp, de som skulle vilja cykla, men inte vågar.
Och det får oss att minnas den här gamla seriestrippen: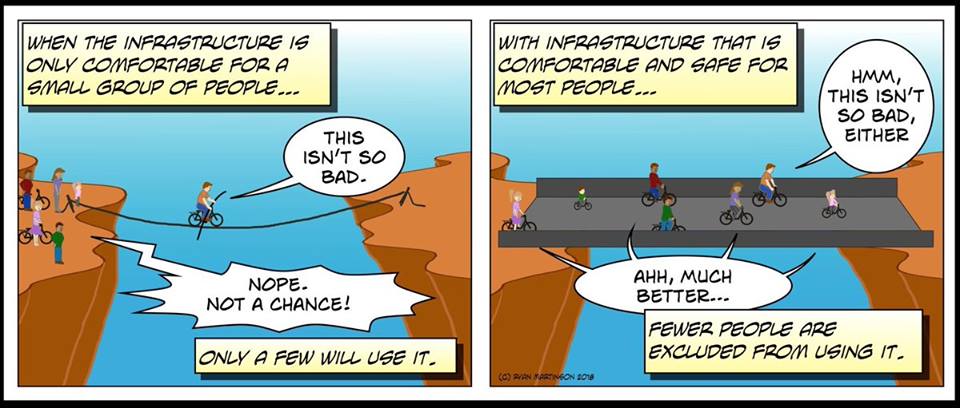 Vi gillar också det här:
If we want cyclists to be less annoying, then we should build proper infrastructure for them. In Denmark, where cycle lanes are common, a study found only 4.9 per cent of cyclists committed a traffic offence at a junction.
När cyklisterna får infrastruktur som är anpassad för dem och uppfattas som begriplig och rimlig, då följer de, kors i taket, trafikreglerna. Något vi också sett i Stockholm. När rödljusperioderna anpassades efter cykeltrafik så minskade rödljuskörandet drastiskt.
Läs hela artikeln i Financial Times.

Samtidigt i Sverige fortsätter cyklister vittna om ett hårt trafikklimat. Nu senast Lisa Nordén som intervjuades i Expressen. Det hon säger är något vi känner igen:
– Det mest ledsamma är att man har ett slags hat mot cyklister. Det gör att man har förlorat halva slaget när man cyklar och möter en sådan i trafiken. De tycker så illa om en och tycker att man inte har någon rätt att vara på vägen. Det är inte okej någon annanstans i samhället att tycka så illa om en grupp människor. Men med cyklister är det ingen som satt ned foten, det är liksom helt okej att tycka illa om dem.
Vi har tagit upp det många gånger, det här med att man som person vill bli bemött som just person. Men att när man kommer på hoj så känns det som att man är dömd på förtid. Man är en cyklistjävel. Och det är fan inte okej.
Jag cyklar varje dag, ibland gör jag fel precis som alla andra. Missar en fotgängare som inte kommer över. Stannar klumpigt. Glömmer att ge tecken med armen. Då vill jag bli bedömd för hur jag cyklar, inte utifrån en fördom om "hur cyklister är". När jag säger "förlåt, det var inte meningen¨, jag missade", så vill jag slippa höra "jävla cyklister" till svar.
Kanske kan vi börja nu, när vi snart skriver 2021. Lite vettig infrastruktur, lite regeländringar så att cyklister räknas också, och så börjar vi alla vara vänliga mot varandra. Le och vinka.
Kan vi säga så?
Toppbild: Proffscykel i London