I tre inlägg har vi skrivit om hur vi som cyklister känner igen argumenten som används mot det senaste tillskottet i trafikfloran, elsparken. Nu tänkte vi avsluta med att gå tillbaks i tiden till senaste stora revolutionen i trafikantsammanhang: När hästen fick konkurrens.
För det var inte så att automobilen välkomnades med öppna armar direkt. Och det är lite intressant att läsa Wireds artikel om hur introducerandet av bilen liknade dagens elsparkexplosion:
The early years of the American auto industry looked a lot like Silicon Valley today. Instead of countless apps and startups aiming to fix problems that probably don't exist, the entrepreneurs of the age were making all sorts of new kinds of cars, before the industry was pared down to just a few juggernauts.
1896 varnades för hur korkade bilarna var i jämförelse med hästar:
"We should not overlook the fact that the driving of a horseless carriage calls for a larger amount of attention for he has not the advantage of the intelligence of the horse in shaping his path, and it is consequently incumbent upon him to be ever watchful of the course his vehicle is taking."
När självgående hästvagnar kom var det inte självklart hur de skulle användas eller av vem. Eller vad det skulle innebära. Vår favoritbild är den som visar hur man liksom försökte vänja folk och hästar vid den nya märkvärdigheten, den hästlösa droskan: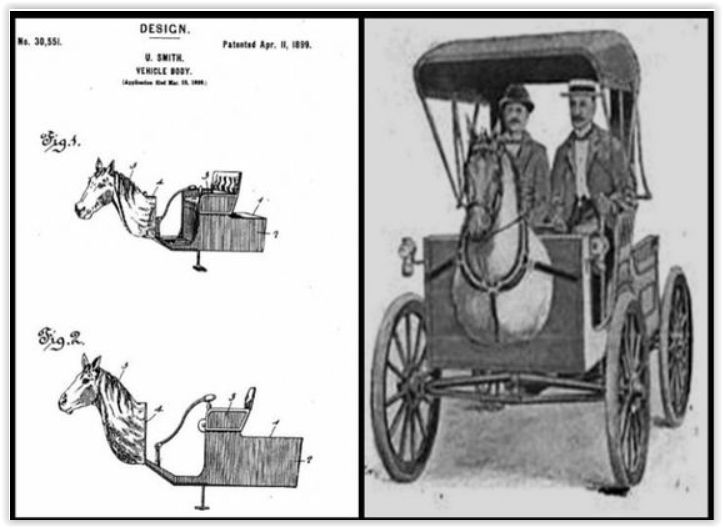 Ett av de stora problemen med bilar då var att de skrämde hästar och det orsakade olyckor. Rädda hästar kunde också bitas. Olyckorna riskerade att… skena.
Weird historian skriver om de early adopters som började köra runt hur som helst att:
Such courageous souls drove these amazing but "infernal machines" down the streets, startling every horse and pedestrian along the way. Frightened horses became such a problem that some owners threatened to shoot drivers on sight.
De körde som tokar och nådde extrema hastigheter utan att ta hänsyn till vare sig folk eller fä. Så stökigt att man bestämde sig att lagstifta. I Storbritannien skedde det i den så kallade "Red flag act", eller "Locomotive act" som den hette egentligen. Där reglerades hur självkörande fordon (självkörade här som i "utan häst") fick framföras på allmänna vägar.
Fordonen skulle ha lampor och fick inte använda ångvissla. Hastighetsgränsen bestämdes till 4 mph (knappt 7 km/h) på landsbygden och 2 mph (3 km/h) i städer. Vilket innebar att det gick fortare att cykla, eftersom cykel inte hade samma hastighetsgräns.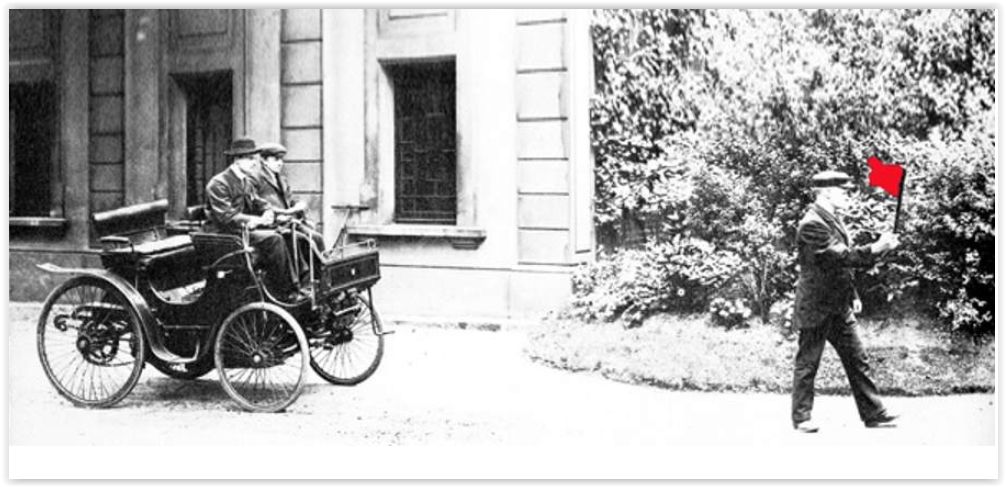 Varje vagn skulle åtföljas av minst tre personer, och en av dem skulle gå med en röd flagga minst 55 meter framför ekipaget och också hjälpa till vid passager av hästar och människor.
Timeline.com konstaterar att lagen tog bort alla fördelar som det nya trafikslaget medförde.
Man kan säga att det fanns en stort skepsis och oro. Gissar att en och annan hästhandlare också var kritisk till ny konkurrens.
Så, kanske inget nytt under solen. Men bra att bli påmind ibland.
Med det önskar vi trevlig helg!