Många vet om att det finns döda vinklar snett bakåt – har man körkort får man lära sig det tidigt på körskolan. Som cyklist betyder det att man ska vara försiktig med att hamna snett bakom bilar, till exempel vid högersväng eller i cykelfält där biltrafik går bredvid.
Men, färre vet om att det finns döda vinklar även framåt i bilen, i det som på engelska kallas "a-pillar-"eller "windshield blind spot". På svenska "a-stolpe dödavinkeln" kanske?
Det är området bakom bilkarossen till höger och vänster om vindrutan: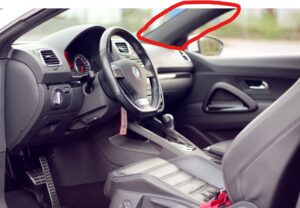 Och den är oerhört viktig att känna till, den riskerar nämligen att dölja cyklister till exempel i korsningar och cirkulationsplatser.

Om ni cyklar i samma riktning som biltrafiken och befinner i den rödfärgade områdena så syns ni inte för bilen som ni cyklar parallellt med. Ni är dolda bakom höger vindrutestolpe. Samma sak om ni kommer i korsningen, alltså nerifrån och upp på bild, och befinner er i färgkonernas "strut". Håller ni samma hastighet kan ni vara helt osynliga hela vägen. Väl framme vid korsningen riskerar ni då att bli påkörda.
Det är vad jag tror hände här (0:22 in i klippet om det inte startar rätt):
Jag tror bilisten har sin huvudsakliga uppmärksamhet omedelbart till vänster om sig – mot den vita bilen i cirkulationsplatsen. När den passerat skiftar uppmärksamheten tillbaks men då är cyklisten redan inne i den döda vinkeln bakom vänstra A-stolpen. Sedan rullar den röda bilen framåt, på ett sätt som gör att cyklisten fortsätter vara dold av A-stolpen. Man ser att förarens huvud är helt dold av den väl tilltagna röda karossen: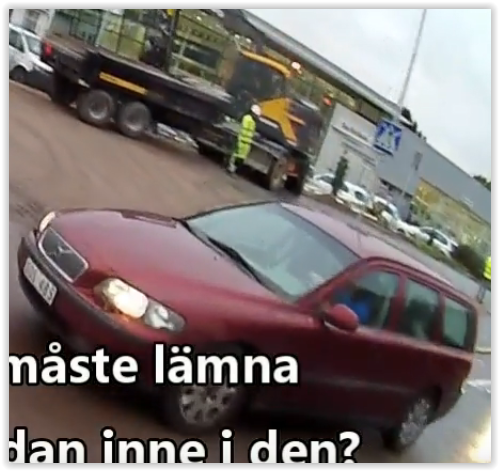 Jag gissar att många bilister inte ens känner till den här döda vinkeln – eftersom den är mindre knepig i förhållande till övrig biltrafik än döda vinklarna bakåt. En annan bil döljs helt enkelt inte. En cyklist i blandtrafik däremot försvinner helt. Med ökande cykling, kommer den därför bli viktigare och viktigare att känna till för alla.
Det här är en video från AutoglassUK (så vänstertrafik alltså), där de kallas "Killer Pillars":
"Nowadays due to cars becoming more and more crash friendly, in order to strengthen the car they've made them a lot thicker than they used to be in the old days"
Så paradoxalt nog har ökad krocksäkerhet för bilförare minskat säkerheten för oskyddade trafikanter. Autoglass UK ger tre tips till bilförare:
Lär känna hur din bils a-stolpar påverkar din sikt. Se efter hur du kan titta för att se runt dem.
Titta alltid två gånger när du närmare dig platser där du kan möta fotgängare och cyklister.
När du närmar dig en korsning, rör alltid på huvudet så att du ser bakom både vänster och höger a-stolpe.
Vi lägger till en 4:
4. Håll låg hastighet. Då ökar du chansen att hinna få syn på någon som göms i döda vinkeln och då minskar olycksrisken om olyckan ändå är framme.
Som cyklist har man inte jättemånga val att hantera döda vinkel framför bilarnas A-stolpe. Man kan minska risken genom att försöka variera hastigheten – för att öka chansen att man inte "fastnar" bakom stolpen. Och genom att vara medveten om den – och att man alltså kan vara helt osynlig för bilföraren även på långa raksträckor med i övrigt god sikt.
Som med allt annat finns det förslag på tekniska lösningar, här är till exempel Jaguars "genomskinliga" stolpar:
Och det här är från ett patent från Toyota:
"The patent, published this month and titled, "Apparatuses and Methods for Making an Object Appear Transparent," would reduce blind spots using mirrors to bend the image around a vehicle's pillar. The language, and even the drawings, in the patent are a little murky (as patents can be), but the result is clear, as the figure above illustrates."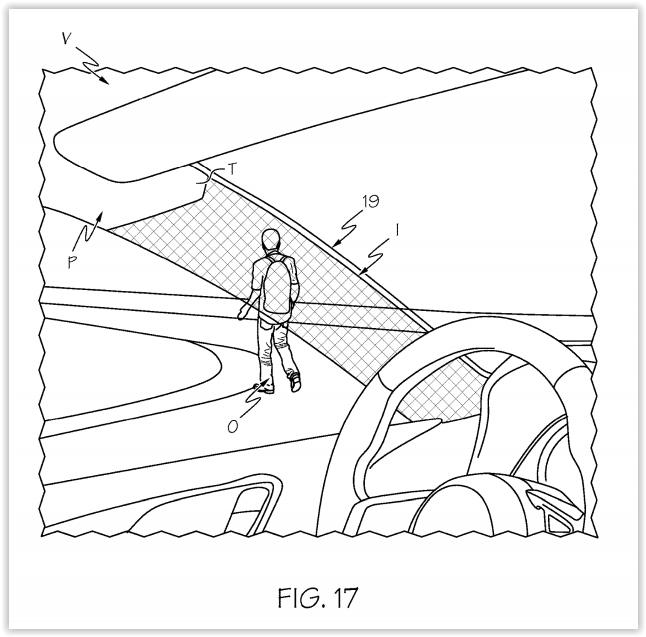 Också Continental verkar vara på gång med genomskinliga stolpar, enligt den här artikeln från Mestmotor.se
Tills alla bilar har genomskinliga stolpar, var som cyklist beredd på att trots att det är fri sikt, så kan du vara helt osynlig för bilförare även framåt. Särskilt viktigt i korsningar.