För några veckor sedan var det Yom Kippur, försoningsdagen, för världens judar. Syftet är att blicka tillbaks, fundera över året som gått och vilka fel och misstag man har gjort.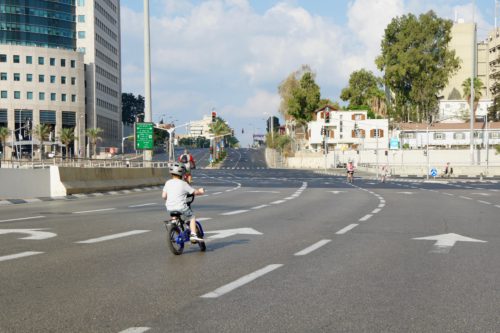 En av sedvänjorna som vuxit fram kring Yom Kippur är att man av respekt ska avstå att köra bil. Och det leder till att situationen i trafiken förändras drastiskt.
För istället väljer folk cykeln. Och promenerar. Och titta vad fint det ser ut! Och vad mycket plats! Missoulian.com skriver:
"It's the one day that parents can let kids go out in the street without getting run over," he says. "They can ride their bikes from one end of the city to another."
"Yom Kippur means freedom," says Tom Inbar, a seventh-grader chatting with two girls about their route and who would be joining them. "It's an experience. You can ride in the roads, just once a year."
Det finns något att lära här känner jag.
Alla bilder från årets Yom Kippur i Tel Aviv.