Det är lördag och vi går igenom veckans sociala-medierskörd – alltså cyklistrelaterat vi sett på Facebook, Twitter och Reddit. Mest.
Vi noterar att P1:s program Cykla har kommit med nytt avsnitt:

För den som vill höra hela serien eller ladda ner, gå till Cykla i P1.
I USA samlades cyklister till en protest mot att polisen bestämt sig för att införa nolltolerans mot cyklister som bryter mot lagen. Kan låta märkligt, men idén med den fredliga protesten var att alla cyklade och följde lagen till punkt och pricka genom att en och en köra igenom en korsning med stopplikt.
Effekten blev att trafiken tog tvärstopp eftersom alla, lagenligt, stannade en och en och inte körde förrän det var helt klart. Så här såg det ut:

Poängen var helt enkelt att lyfta fram att lagarna inte utformats för cykel utan för bil och att det kan bli rätt underliga effekter när de tillämpas. Normalt kör cyklisterna flera i klunga och alla stannar inte helt, då flyter trafiken snabbare. Om alla ska följa lagen, måste de köra en och en, varje cyklist måste stanna först och det ska vara helt klart i korsningen. Som synes tog det tid.
Läs mer hos SFWeekly (på engelska): "This Is What Happened When Bicyclists Obeyed Traffic Laws Along The Wiggle Yesterday "
Tidningen The Guardian som skriver otroligt mycket om cykling, lyfter i ett reportage upp hur nederländska Groningen blev en cykelstad:
Motorists woke up one mid-70s morning to find new one-way streets made direct crosstown journeys impossible by car. Forty years later Groningen boasts two-thirds of all trips made by bike … and the cleanest air of any big Dutch city.
I Groningen görs enligt the Guardian över 60% av alla resor till cykels, med nu ska det bli fler cyklister. Staden planerar att anpassa rödljusen till cyklister, bygga eluppvärmda cykelvägar och femtusen fler cykelparkeringsplatser ska läggas till de tiotusen (!) som redan finns, men är överfulla.
Läs mer hos The Guardian (på engelska).
I London kampanjar de just nu för att förbjuda lastbilstrafik i stan under rusningstrafiken: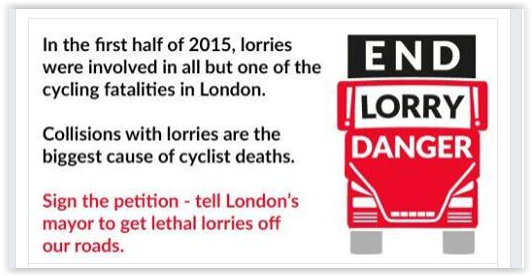 Men alla tror inte det är en bra idé:
Läs mer The London Evening Standard (engelska): Why are HGV lorries so dangerous and how can the industry make London's streets safer for cyclists? och Revealed: 1,000 cyclists injured and two killed in London hit-and-runs in last year alone och hos Road.cc: "Petition to ban lorries from London's streets during rush hour receives 2,500 signatures in first 10 hours".
Moving on, vi har skrivit spaltmetrar om hur cyklister kör mot rött och att ett av skälen är att trafikljusen inte känner av cyklister. Samma sak gäller i USA och där har staden Redmond hjälpsamt publicerat den här videon: "Hur du får grönt på hoj". Det är lite fantastiskt hur mycket meck det är och hur positiva alla ändå är i videon, över den seger som är att också cyklisterna får det bilisterna får utan att tänka på det: grönt ljus.
Jag tror vi använder liknande teknik i Sverige, även om våra markeringar i vägen brukar vara diagonala streck. Vad vet jag, kanske funkar tricken här också.

och så har det är ju varit veckan då den här videon spridits viralt:
https://www.youtube.com/watch?v=luNGjffDjCs
Trevlig helg alla! Vi påminner er som tänkte cykla i Stockholms city att det idag (lördag) är Pride med stora avspärrningar. Men ingen fara, enligt polisen kan man ta Norra Länken:
"Till skillnad från tidigare år finns numera Norra länken att tillgå för boende på Östermalm och Lidingö när de ska ta sig till och från stan"
Precis som vanligt finns information för dig som kör bil hos både polisen och arrangören. Som cyklist får man gissa – kanske går det, kanske inte. Vem vet (Läs mer om Stockholm som evenemangsstad).