Ja, politikern vi skrev om igår lyckades hamna i lokalpressen. Anledning var att han passade på att kalla folk för "Cykeljihadister" och till Direktpress säger han:
– Jag har tidigare bloggat privat om att cykling i Amsterdam är kultur. Jag har jämfört attityden i Amsterdam mot attityden hos cyklister i Stockholm. I Stockholm ska man fram till varje pris, man är arg på bilister, arg på gamla tanter, arg på barn – arg på allt. Cyklande i Stockholm är en ideologi och identitet. Det är ett polemiskt uttryck i en politisk debatt.
Yes, cykelkulturen i Nederländerna kom gratis av sig själv. Den liksom uppstod ur intet. Inga arga cyklister som protesterade, utan alla liksom bara gemensamt kom överens om att nu är det dags att bygga bort bilvägar och ersätta dem med cykelvägar. Det var härliga, fina, konsensustider.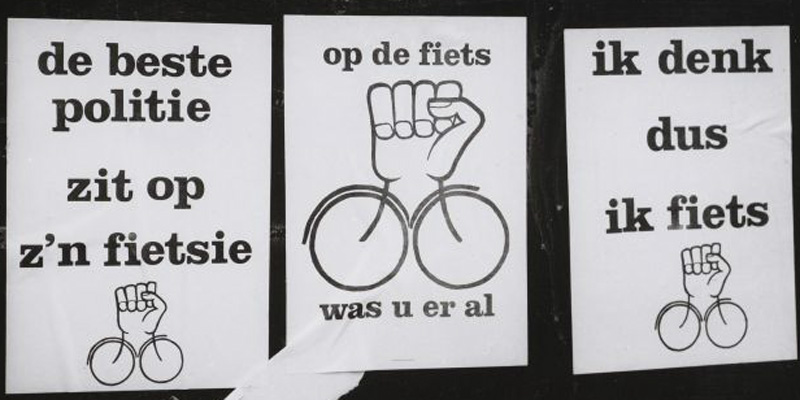 Not.

The number of traffic casualties rose to a peak of 3,300 deaths in 1971. More than 400 children were killed in traffic accidents that year. This staggering loss led to protests by different action groups, the most memorable of which was Stop de Kindermoord ("stop the child murder"). Its first president was the Dutch former MEP, Maartje van Putten."

The 1970s were a great time for being angry in Holland: activism and civil disobedience were rampant. Stop de Kindermoord grew rapidly and its members held bicycle demonstrations, occupied accident blackspots, and organised special days during which streets were closed to allow children to play safely: "We put tables outside and held a huge dinner party in our street.

På 70-talet protesterade man. "Stoppa barnmorden!". Demonstrationer. Sittstrejk på olycksdrabbade platser. Stängde gator så att barnen kunde leka.

Det kom inte gratis av sig själv. Om något skulle man kunna säga att Stockholms cyklister i jämförelse är mesiga. De nöjer sig mest med att skriva på interwebs.
EDIT: Här är blogginlägget han pratar om: http://magnusnilssonisolna.se/2014/03/i-amsterdam-ar-cykeln-livsstil-inte-jihad/

Läs mer: How Amsterdam became the bicycle capital of the world
Bicycledutch: How the Dutch got their cycling infrastructure