Det är helg och det regnar inte just nu så idag blir det ett länkinlägg. Extra roligt eftersom det är ett länkinlägg, till ett länkinlägg, till ett inlägg (puh).
Sajten Treehugger skriver om bloggaren BikesnobNYC som skriver om något vi känner igen från Sverige, att cykelbanan används som en praktisk yta för lite av varje.  Alla klagar på att cyklister är livsfarliga och kör överallt, men när de sedan får ett cykelfält, så fylls det av helt andra än cyklister:
My favorite though is when New Yorkers complain about the threat cyclists pose to pedestrians, and between newspaper editorials and Internet comments you'd think that it was cyclists and not drivers killing hundreds of people a year.
By the way, none of this is to begrudge pedestrians their lebenstraum.  We are animals after all, and as such we should be permitted to roam, like free range chickens.  I merely point this out because: 1) It's fun to take pictures of strangers; and 2) It totally undermines the false premise that cyclists are a problem in New York City.  If anything, we're treated like guests in our own home, and unwanted ones at that.
BikeSnobs poäng är att alla säger att cyklister är livsfarliga för fotgängare, men trots det promenerar folk avslappnat i cykelbanorna på hans bilder. I Sverige upplever jag att fotgängare är ett mindre problem för cyklister än vad det verkar vara i New York, ett större är trafikanter som skabara-parkerar. Ska bara in på posten. Ska bara handla på Konsum. Ska bara hämta hämtpizza.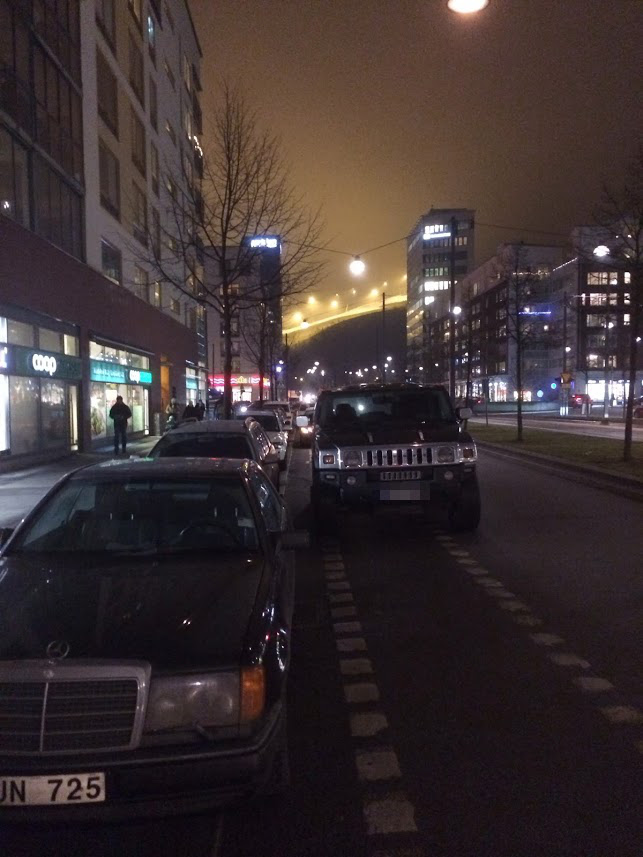 Treehugger citerar  också den kanadensiske journalisten Andrew Clarke från Globe and Mail som säger:
The first tip off is the name: "bike lane." It's not a "car lane" or a "truck lane" or a "stroller lane" or a "jogging lane." It's not a "Purolator lane" or a "trucker-needs a-coffee-lane." It's not a "waiting-for-your-spouse-lane" or a "small-right-hand-passing-lane." It's a bike lane.
Men  kom ihåg, det är alltid viktigare att en BMW-förare slipper gå några meter extra, än att två barnfamiljer med tre barn ska få en trygg och säker väg att färdas på. Det finns ju styren och hey, det är ju bara att kolla bakåt så att man inte blir överkörd av den där gula lastbilen som kommer. Och att frihandsbedöma fordonsfart är ju som alla poliser vet en baggis.