Vi har tidigare skrivit om Cykelköket i Malmö och dess förebild (?) i Los Angeles, så här skrev vi då:
Idén med "cykelkök" är att på frivillig basis ordna så att folk kan komma och fixa sina cyklar, låna verktyg och få hjälp.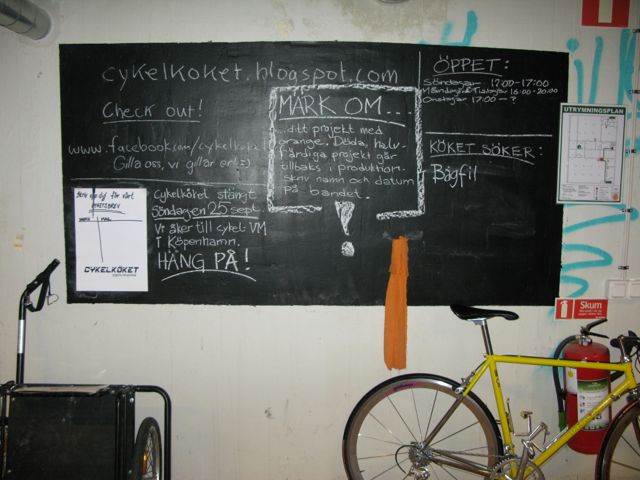 Med 150,000 cyklister på vägarna (siffror från 2010) så borde det finnas plats för minst ett cykelkök i Stockholm också, men hittills har vi inte sett några. Nu verkar det bli ändring på det. 
Fenix på Södermalm har cykelverkstad på måndagar. Så här skriver de:
Cykelverkstad kl. 16-18
Kom och laga din cykel, ta med dig material, ex. ny cykelslang till punkan och få hjälp att laga, eller låna verktyg av oss. Kostnad 25-50 kr
Öppnar 6 augusti. Vet inte hur det är med kostnaden, enligt tidningen Södermalmsnytt ska det vara gratis.
Samtidigt håller gruppen "Glädjeligan" på att försöka etablera ett mer regelrätt cykelkök. De skriver på sin hemsida (på engelska av någon anledning)
Why would we want to do this?

Empower people through knowledge
Promote cycling and increase accessibility to cycling
Provide low cost bicycle solutions
De finns på Facebook också.
Kul att det händer något, det är lite…. pinsamt att Skandinaviens huvudstad inte har vettiga verkstäder för egenmeckande av cyklar.
Om någon representant för de här två gängen läser det här, hör gärna av er till cyklist@cyklistbloggen.se och berätta mer!