Det brittiska taxibolaget Addison Lee har hållt sin första kurs för sina förare, med målet att öka medvetenheten om cyklisternas utsatta plats i trafiken. Tjugo förare fick under två dagar lära sig att dela med sig av vägytan:

They particularly noted the importance of riding where drivers can see them which may look as if the rider is blocking but in fact the rider is helping drivers see them. They also understood that people on bikes sometimes ride out of cycle lanes because the lanes are not always in the best place.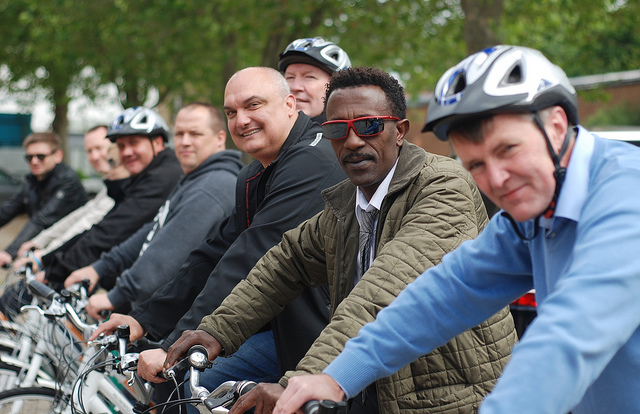 Kursen hade tagits fram speciellt för dem av Cycle Training UK och målet är att nå även bortom de tjugo förare som deltog under helgen:
We are also currently working with Cycle Training UK to produce a series of videos for our web-based driver training site to capture some of the main learnings from the course.
Bakgrunden till initativet är ett uttalande som ägaren till Addison Lee, John Griffin, gjorde i april i år. Han anklagade då cyklister för att vara vettlösa amatörer som utan att betala ett öre i skatt utnyttjar en väg som inte är deras:
The rest of us occupying this roadspace have had to undergo extensive training. We are sitting inside a protected space with impact bars and air bags and paying extortionate amounts of taxes on our vehicle purchase, parking, servicing, insurance and road tax.
It is time for us to say to cyclists 'You want to join our gang, get trained and pay up'.
Problemet var bara att det inte funnits något vägskatt i Storbritannien sedan 1937. Den bilskatt bilisterna betalar baseras istället på hur mycket koldioxid de släpper ut.
Det ledde såklart till en motreaktion, bland annat på den ironiskt döpta sajten Ipayroadtax.com.
Istället för att backa, valde Griffin istället att skicka ut ett brev till alla sina förare. I det instruerade han dem att börja använda bussfilerna för att ta sig fram. Förutom bussar är det bara cyklister och de statliga "Black Cab"-bilarna som får köra i bussfilen.
Minicabs can not legally use the bus lanes and, although a testament to the poor standard of provision for cyclists in London, this is one place where a cyclist can get some respite from the often mind-bogglingly awful driving seen from many Addison Lee drivers.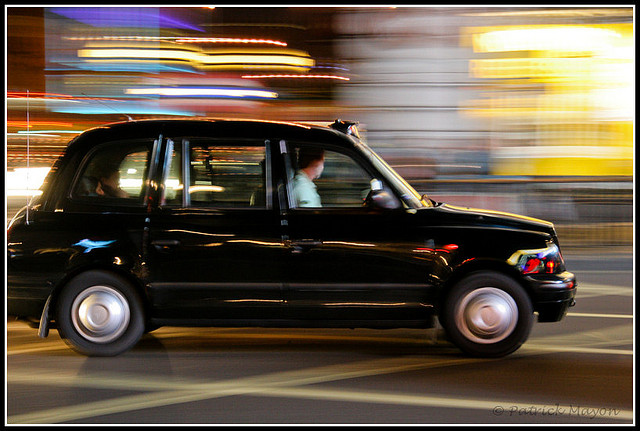 Cyklisterna kände sig än mer jagade. Nätkampanjandet ledde till att 23 april utsågs till "Bojkotta Addison Lee"-dagen. Såklart med en egen hashtagg på Twitter också:  #boycottaddisonlee.
Samtidigt kom lagen ikapp och Transport for London polisanmälde brevet och Addison Lee beordrades snabbt att upphöra med att uppmana sina förare till lagbrott.
Slutet gott allting gott? Nej, det är fortfarande många som hävdar att cykelkursen bara är ett pr-trick från företagets cyklande PR-chef, Alistair Laycock. Han uttalade sig så här:
In retrospect he agrees it was a mistake for Add Lib, the Addison Lee corporate magazine, to poke the cyclists' hornet nest when the real beef was with black cab taxi driver access into London's bus lanes.
"The offer of putting drivers through cycle training is genuine. We contacted David Dansky last week to start the ball rolling."
Möjligen är det smart PR-arbete som ligger bakom "Bicycle Awareness"-utbildningen. Men spelar det någon roll? Det visar på makten hos nätaktiva cyklister och det innebär att flera taxiförare får lära sig hur det är att vara cyklist i innerstadstrafik. Några av dem fick sina första upplevelser på cykel någonsin.
När tar Stockholms taxibolag efter? Taxi Stockholm och Taxi Kurir, som båda gärna parkerar i cykelfält och är rätt dåliga på att använda blinkers? Taxi 020?
Läs mer på Ipayroadtax.com, BBC, BBC, The Guardian, Road.cc