Nu när jag gått all-in och köpt lättmetallscykel med nördframdrivning och fler växlar än jag haft sedan min tioväxlade Wasa inköpt på B&W 1985 så passade jag också på att läsa mitt livs första cykelbok.
Jag tänkte försöka recensera den. Jag har inte recenserat en bok sedan jag gick i sexan så jag är lite osäker på vad man ska tänka på. Jag tar det kronologiskt.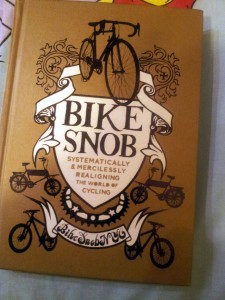 Boken heter Bike Snob: Systematically & Mercilessly realigning the world of cycling. Några av er kanske känner igen Bike Snob som en fantastiskt rolig och respektlös blogg hemmahörande i Williamsburg i New York. Boken går i samma stil, men är lite mindre polemiserande med alla pretentiösa cykelkulturförespråkare och hipsters med bromslösa fixies. Har man följt bloggen så har man ändå ett hum om stilen.
Jag är omåttligt förtjust i Bike Snob eftersom hela hans syn på cykling stämmer så väl överens med min egen. När jag började blogga om cykling var det rätt mycket eftersom jag saknade en blogg om cykling som inte hade huvudfokus på racande i Tour de France, hur man maxierar sin MTB-träning, hur en äkta cykel ska vara eller vilka kläder man bör ha. Jag har inga problem med att många cyklister gillar just Tour de France eller cykelmode, men själv var jag mest intresserad av att ta mig hemifrån till jobbet (och tvärtom) på cykel så säkert och lätt som möjligt.
Den här boken har ungefär samma inställning, trots att författaren är föredetta cykelbud. Jag gillar det, jag gillar att han försöker definiera en cyklist:
(1)a person who rides a bicycle, even when he or she doesn't have to do so
(2) a person who values the act of riding a bicycle over the tools one needs in order to do it.
Jag gillar hyllandet av just cykling, sättet att ta sig fram, friheten och lättheten. Jag gillar också den korta historiska exposén över cyklingens historia. Den ger nyblivna pendlingscyklister en rätt bra och realistisk introduktion till cykling i städer med allt vad det innebär av aggressiva bilister, punkteringar och stulna hojar. För att inte tala om frihetsupplevelser, känsla av välbefinnande, snabbhet, enkelhet och ren glädje. Ska jag säga något negativt så är det att den är lite ojämn och inte alltid hänger ihop och att avsnittet om den gamla cykelvägen i New York är rätt ointressant om man inte bor i New York. Men det var å andra sidan inte så långt.
Dessutom är det en väldigt snygg bok. Plus att man får inte mindre än fyra klistermärken med.
Väl värt de dryga 100 spänn den kostade på Amazon och för den som vill provläsa finns ett stycke här. Och för den som vill ha mer finns här tips på nio böcker till (Treehugger)