En kvinna i Toronto bestämde sig för att pigga upp en rostig gammal hoj som någon lämnat kvar fastlåst vid en stolpe. I cykelkorgen planterade hon blommor. Resultatet? Plötsligt fick cykeln en parkeringsbot och en lapp med instruktionen att cykeln måste flyttas.
The funny thing is that this bike has been sitting in the same place for months, unnoticed by The City; however, once it is brightened and made beautiful, it's got to go.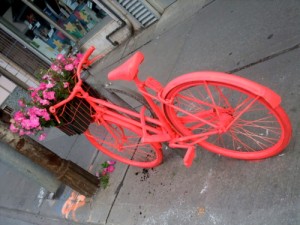 Det blev startskottet till "The good Bike project":
It has become a community project and a discussion about street art, bicycles and public art in Toronto. The City has hundreds of abandoned bikes and these are being made available for painting and decorating. The Mayor has begrudgingly said "it certainly will be exciting when these bikes appear around Toronto this summer."
Resultatet blev att cykeln fick vara kvar och att ännu fler färgglada cyklar dyker upp i Toronto. Läs mer hos Treehugger och tipstack till Per Hylén!
En video om projektet:

No tags for this post.