Det här är fortsättningen på förra posten som handlade om vad man som cyklist kan göra för att undvika att bli dödad av högersvängande lastbilar – en av de absolut farligaste situationerna för en cyklist. En brittisk polis uttryckte det till och med så här drastiskt:
Don't worry about wearing a helmet or a fluorescent sash, he said, just never, ever, go up on the left-hand side of lorries.
Det var alltså i England, med vänstertrafik, här hade det varit, kör aldrig upp på höger sida av lastbilar. Så, för att fortsätta, vad kan göras mer än att upplysa cyklister hur de ska göra för att slippa bli dödade?
Transportation for London har monterat upp Trixiespeglar, som täcker in döda vinkeln där cyklarna står.
Speglarna fick namn efter trettonåriga Beatrix Willburger från Schweiz som skadades allvarligt av en vänstersvängande lastbil (vänstertrafik som sagt). Hennes pappa kämpar för att speglarna ska införas i hela Europa. I Nederländerna finns ett liknande system, Blackspot Mirror: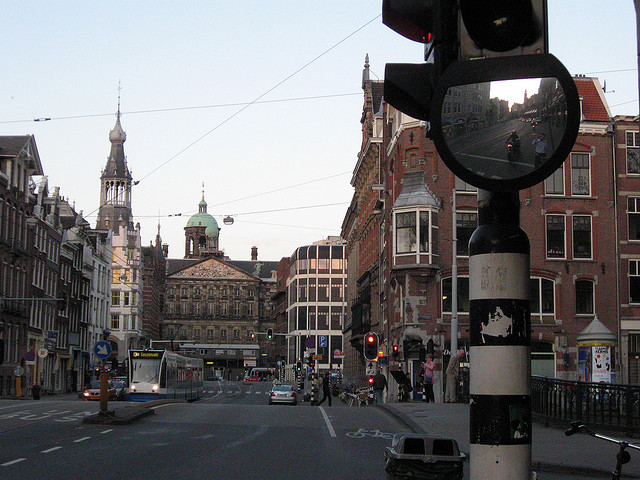 Där speglarna alltså sitter monterade längst ner på trafikljusen.
Ett annat system är som sagt cykelboxar, den här finns i Portland i USA: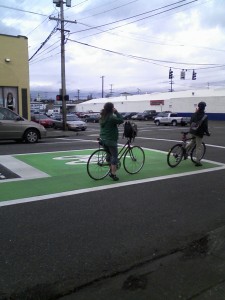 Rejält stor yta, breda vita linjer, grön färg som är så oerhört mycket synligare än den mörk-roströda som används i Stockholm och självklart anslutande cykelfält. Dessutom har den instruktioner till den bilist som kanske inte förstår vad cykelboxen är till för: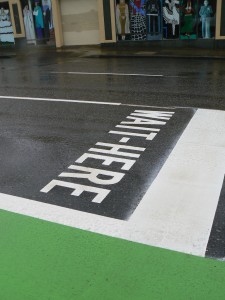 I Danmark hittar jag systemet med "før-grønt", alltså att cyklisterna får grönt några sekunder innan bilarna får det:
Herved får cyklister,der starter op efter at have holdt for rødt, et forspring i forhold til bilerne og bliver derved mere synlige.
Det liknar lite förslaget som nämndes i tidigare inlägg här på bloggen, att bilarna får ett separat rödljus.
I Danmark och Tyskland använder de ett system med lampor i cykelbanan, LED lane-lights. Det innebär att led-lampor i cykelbanorna börjar blinka när det slår om till grönt, för att påminna bilisterna om att fältet finns och att det kan komma cyklister:
Förutom att det är smart, ser det jäkligt vackert ut i mörkret. Så, större cykelboxar, Trixiespeglar, lampor i vägen, upplysning för cyklister, vad mer kan göras? Det blir ämnet för tredje och sista posten om högersvängande lastbilar.