I London och Storbritannien har det varit rejält med kontrovers kring de tillfälliga cykelbanor som anlagts för att underlätta för folk att ta sig fram under Covid-epidemin. Vi skrev om det för ett par veckor sedan när en av de här banorna togs bort. Kritiken handlade om att de orsakade köer, men också att de hindrade utryckningstrafiken.

Flera utryckningsföretag fick uttala sig och nu har cykelorganisationen Cycling UK begärt ut de bedömningar som de lämnade. Och precis som när samma sak sas här i Stockholm, så visade det sig att de inte hade något att invända.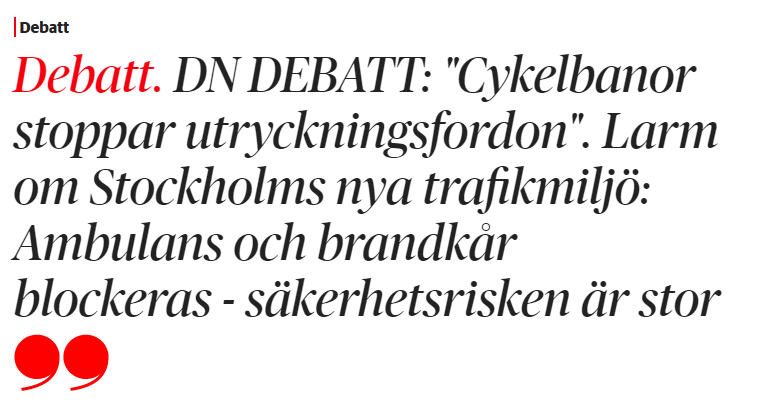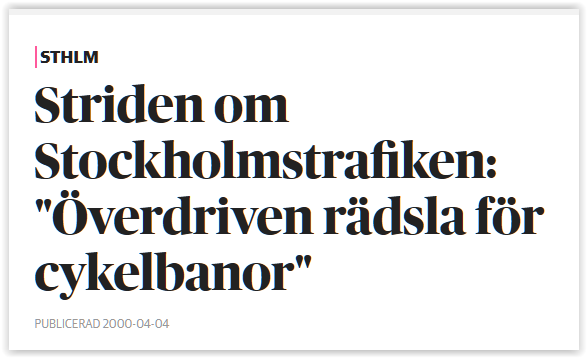 Tio ambulansföretag svarade och av dem svarade alla utom två att de inte kände till några förseningar som skulle ha uppstått på grund av nya cykelvägar:
Four ambulance service trusts – East Midlands, London, South Central and Yorkshire – expressed explicit support for active travel schemes in their FoI responses, while spokespeople for West Midlands and North West told the Guardian they supported such schemes and were not aware of any causing delays. No trust supported the withdrawal of measures.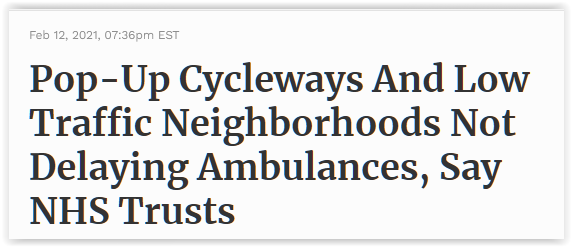 Flera av dem tyckte uttrycklingen att den här typen av förändringar var bra:
"We are supportive of LTNs [low-traffic neighbourhoods] due to the health benefits in the same way as we are a supporter of Birmingham city council's green air zone that is due to come into force this year."
David Williams, the deputy director for operations at East Midlands ambulance service, said: "We welcome the introduction of cycle lanes because they are there to help keep cyclists safe and therefore help prevent road traffic collisions."
Och undersökningar tycks stödja den åsikten:
Research has found that having protected cycle lanes reduces the odds of cycling injuries by 40%-65%, while LTNs have been found to reduce injuries for all road users by 70%.
Så, win-win. Färre skadade, bättre miljö och inga problem för uttryckningstrafiken. Kanske inte så konstigt, en bil är svår att få ur vägen, en cykel bara att lyfta:
Och gör man bara cykelbanan rimligt bred, så bidrar detta till ökad framkomlighet. Som här för brandkåren i Nederländerna:
Toppbild: Ambulans/Wikimedia CC BY-SA 4.0 Fotograf: Wille Öhgren
Fotnot: LTN är Englands namn på "Low traffic neighbourhoods" och "FOI", är Storbritanniens motsvarighet till vår offentlighetsprincip, alltså rätten att få ut officiella dokument.