Vi fick frågan efter förr-gårdagens inlägg om toppbilden. Alltså den här: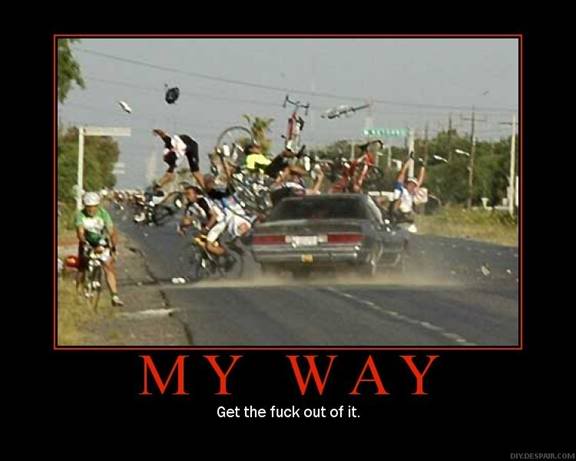 Det är alltså en av nätets mest använda cykelbilder när det ska skämtas med, eller bara gnällas på, cyklister. Den finns i massor av varianter, här är ett exempel till: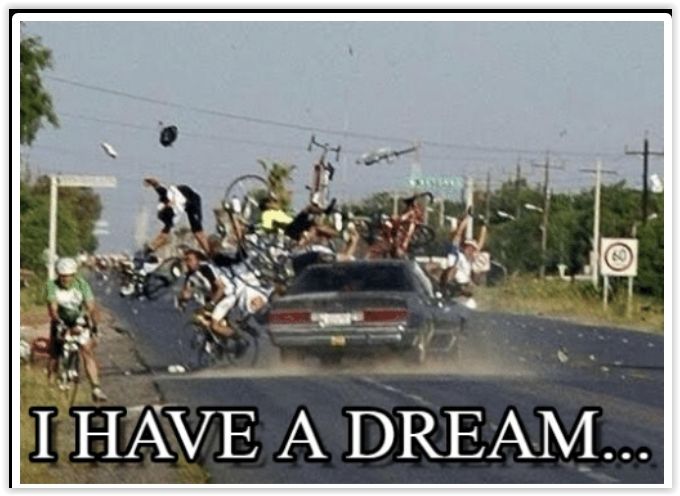 Ni får googla fram fler om ni vill.
Vi har letat efter bakgrunden och efter tips från Nicholas, så visade den sig vara från ett cykelrace i Mexiko 2008. Föraren till bilen var en 28-åring som vad det verkar var både berusad och sov när han körde rätt in i cykelracet. Enligt polisen dödades en person, Alejandro Alvarez, 37 år gammal och tio andra skadades.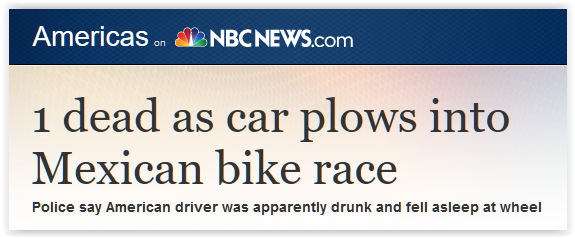 The 28-year-old driver was apparently drunk and fell asleep when he crashed into the race on Sunday, said police investigator Jose Alfredo Rodriguez.
A photograph taken by a city official showed bicyclists and equipment being hurled high into the air by the collision.
Rodriguez said Juan Campos was charged with killing 37-year-old Alejandro Alvarez of Monterrey.
Authorities said the wreck happened 15 minutes into the 34-kilometer race Sunday along a highway between Playa Bagdad and Matamoros, across from Brownsville, Texas.
Bilden har sedan dess alltså blivit ett av nätets mer populära för att skämta om cyklister.