Uppdatering: Nu har polisen släppt videon från bilens dashcam:
Tempe Police Vehicular Crimes Unit is actively investigating
the details of this incident that occurred on March 18th. We will provide updated information regarding the investigation once it is available. pic.twitter.com/2dVP72TziQ

— Tempe Police (@TempePolice) March 21, 2018
Den första dödliga trafikolyckan mellan oskyddad trafikant och självkörande bil skedde igår, när en Uberbil i självkörande läge körde på en person som enligt uppgift ledde sin cykel över vägen.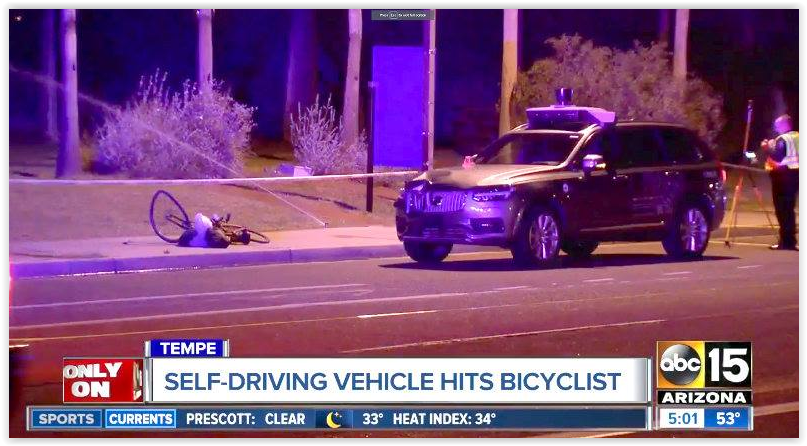 The Volvo was in self-driving mode with a human backup driver at the wheel when it hit 49-year-old Elaine Herzberg as she was walking a bicycle outside the lines of a crosswalk, police said. She died at a hospital.
Det är svårt att dra några större växlar på en enskild händelse, det är rimligt att anta att när självkörande bilar blir vanligare så kommer olyckor ske.
Men igår läste jag en reflektion av Brad Templeton. Han var med och tog fram Googles första självkörande bil och är en av de mer tongivande tänkarna bakom hur autonoma bilar kommer påverka samhället.
Han skriver så här på sin blogg:
Because this is a zone prohibited to pedestrians (in spite of the paved path!) Uber's car would not be expecting one to come from there, but it should have detected her the moment she put foot on the road. According to the safety driver it was almost immediately after that that she was hit.

There is the potential that because a pedestrian walking a bike is an unusual (though certainly not unknown) user of the road, their system may not be as well tested as it could be on such a profile to the LIDAR.
LIDAR är alltså systemet som "ser" åt bilen och här skulle alltså en person som leder en cykel vara ett ovanligt inslag i trafikbilden. Vilket skulle kunna bidra till att bilen fattade fel beslut.
Templeton skriver också:
First, while not entirely unknown, a person walking a bike across a non-crosswalk is an unusual thing compared to what you normally see. As such, Uber's perception system may not be as capable of identifying and modeling that. It is something which may not have been tested as much in simulator.
och
Our best information is that she was walking the bicycle across the road, not at a crosswalk, in the night. That's a very odd thing to be doing is my first impression, but it does raise some questions.
Det här är intressant.
Han tycker alltså spontant att det är underligt att leda cykeln över vägen, mitt i natten, utan att använda ett övergångsställe. Om han tycker det, så är ju risken stor att de som skapar och testar programvaran och systemen som kontrollerar självkörande bilar också tycker det. Och därför inte utvecklar system som kan hantera det tillräckligt bra.
I USA är det förbjudet att gå över gatan på andra ställen än på övergångsställen, det kallas "jaywalking". Det är det inte till exempel här i Sverige. Tvärtom, här har trafiksäkerhetsorganisationer som NTF uttalat att det är bättre om man korsar vägen på andra ställen än övergångsstället – och faktiskt arbetat för att helt ta bort övergångsställen. 2011 skrev till exempel tidningen Vi bilägare om att orten Sävsjö tar bort alla övergångsställen. NTF:s Åke Qvarnström sa då att:
– Det fina med att man inte har ett övergångsställe är att jag som gående själv tar beslutet när jag går över. Då blir det inte de här utmaningarna, man hävdar inte sin rätt, säger Åke Qvarnström, chefskonsulent på NTF, till Jönköpingsnytt.
I USA utvecklas inte bara Ubers självkörande bilar, utan robotbilspionjärerna Google och Tesla. Frågan är hur det kommer gå när bilar utprovade i en trafikmiljö som ser fotgängare med cykel på vägen som "ovanliga" hamnar i en internationell kontext.
Och vilka andra trafiksituationer med oskyddade trafikanter ses som "ovanliga".
Foto toppbild: Dllu/Wikimedia Commons (CC BY-SA 4.0)