En cykellampa som inte går att stjäla med vanliga verktyg och som dessutom har cool design och ett hyfsat ljus. The Defender är ett Kickstarterprojekt som ska ta fram just en sådan lampa. Gillar du den kan du själv ge projektet ditt stöd.
Crowdfundingsajten Kickstarter är en riktigt rolig sajt. Här kan uppfinnare presentera sina idéer och äska pengar från dig och mig. Gillar du idén kan du satsa pengar i projektet och som belöning brukar man få produkten i fråga först och något billigare när den väl kommer i produktion.
Ett par killar som kallar sitt företag Gotham Bicycle Defence har tagit fram cykellampan The Defender som du inte kan ta loss utan det medföljande verktyget. Skulle du tappa bort verktyget får du kostnadsfritt ett nytt.
Designen är machotuff enligt devisen »As you know, city biking can be a battle. We captured the struggle of the urban cyclist in our design.«
Lampan är i aluminium, är helt vattentät och ska ha mycket ljusstarka lysdioder. Den ska klara cirka 100 timmars batteritid på en uppsättning av 3 AA-batterier.
Själv är jag ruskigt nöjd med min Magicshine-lampa och tänker inte byta.
Så här ser The Defender ut: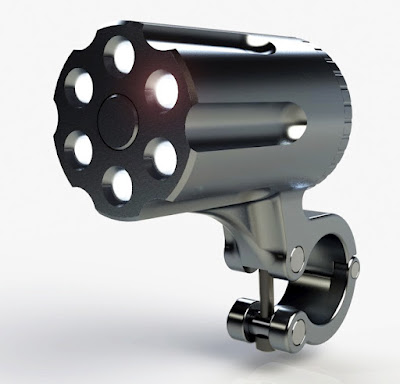 Läs mer och stöd projektet på Gothams Kickstarter-sida.
Tipstack till Jocke Melin.